ANTARCTIC CHRONOLOGY

A Postal History Gallery of Related Events


1932-39


Second Byrd Antarctic Expedition
1933-35
FIRST CANCELLATION MAIL

A fee of 50¢ was charged for all covers serviced at Little America. About 54,000 pieces of mail were received by the mail clerk in the first year. Despite the rules about use of regular postage, some covers were processed.

Cancellation problems were encountered by freezing gears and congealing ink. A postal specialist was sent to assist with the second year mail while the regular clerk finished the job with the wrong date and many covers indelibly ink-smeared.
A "Second Cancellation" cachet identified mail accumulated in New Zealand for handling in 1935. The remainder of the 1934 mail was identified by a "DELAYED" cachet and the incorrect date of January 31. All mail was delivered to the San Francisco post office after closing the base.

(Courtesy of George Hall)

SECOND CANCELLATION MAIL
Mail from a crewmember aboard the support ship SS JACOB RUPPERT, canceled at the ship's authorized
sea post office 6 May 1935 as it sailed home in USA waters. This piece is annotated (lower left corner) from an earlier post-Antarctic, en route stop at Easter
Island, on Paramount Pictures cacheted official expedition stationery bearing additionally the marking of the other expedition ship, BEAR OF OAKLAND (left center), indicating this mail might have been prepared first aboard that ship. Auxiliary USPOD markings indicate that it bore no contents when received at the post office of delivery.

(Courtesy of Herb & Janice Harvis)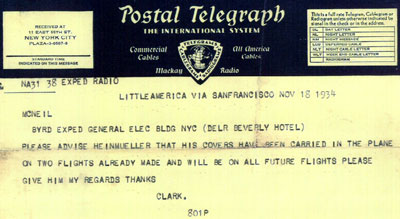 (Courtesy of the George Hall)

Makintosh Oceanographic Surveys
1933-35
Discovery II Expedition



Scientist J.W.S. Marr, aboard the RRS DISCOVERY II during the Makintosh Oceanographic Surveys of 1933-35, addressed a cover to himself. This piece of mail was delivered back to him at the postal counter. Extensive work at sea limited mail from this expedition.

(Courtesy of George Hall)

The expedition made several long voyages through the Pacific and Atlantic sectors of the Southern Ocean, examining whale populations and their environment. The vessel visited Marion Island, South Georgia, South Orkney Islands and the South Shetlands, making surveys in the last group.

Port Stanley, Falkland Islands - canceled 27 December 1933. This England-bound mail was sent from a crewmember aboard the British Antarctic oceans research vessel DISCOVERY II , as it was about to conduct its second Antarctic waters circumpolar research cruise.

(Courtesy of Herb & Janice Harvis)
British Naval Voyage
1934
A visit by the HMS MILFORD to Bouvet Island in 1934 established a "first" when Admiral Evans overprinted a supply of Norwegian stamps to commemorate the visit.

The Cape Town post office accepted the mail although the Norwegian authorities later refused to honor the actions of their Consul-General.

The additional Cape Town stamps suggests the sender had some doubts about the letter passing through the mail.

(Courtesy of George Hall)
LINCOLN ELLSWORTH
2nd Voyage of the M/V Wyatt Earp
1934-35
The M/V WYATT EARP carried Lincoln Ellsworth and his plane 48,000 miles in search of a suitable taking-off ground for a 20-hour flight across Antarctica.

The plan to fly across the Antarctic continent from the Antarctic Peninsula to the Ross Sea was frustrated by continuous bad weather. A short flight along the east coast of Trinity Peninsula was made from Snow Hill Island to the Nordenskjöld Coast. Souvenir covers were mailed from New Zealand during the return from the Bay of Whales to repair damage to one of the airplane skis. The plane had to ultimately be taken to California for repairs.

(Courtesy of George Hall)
3rd Voyage of the M/V Wyatt Earp
1935-36



Piloted by Herbert Hollick-Kenyon, Lincoln Ellsworth made the first Trans-Antarctic flight, from Dundee Island to the Bay of Whales, in November 1935. They reported the discovery of 'Eternity Range', naming it 'James W. Ellsworth Land (Ellsworth Land) and claimed it for the United States. Four landings were made during the crossing, however the plane came down twelve miles short of the abandoned base at Little America. The RRS DISCOVERY II was sent from Australia to the Ross Sea to find them after radio communications failed. They were picked up and four days later transferred to the M/V WYATT EARP.

Mail from the DISCOVERY was dispatched in "Committee Pouches" and placed in the mail in England.

(Courtesy of George Hall)
4th Voyage of the M/V Wyatt Earp
1938-39



One of possibly only two known pieces of mail of its type from the post Trans-Antarctic flight expedition exploratory cruise of the M/V WYATT EARP by Sir Hubert Wilkins and Lincoln Ellsworth. The cover is over-affixed with Australian postage, canceled in Sydney and annotated in Wilkins handwriting. The cover was posted upon return of the ship after important new lands were discovered on the overflight. The cover has also been autographed by Lincoln Ellsworth.

The recipient is the former Antarctic expedition pioneer and prominent polar philatelist, J. Harvey Pirie. The cover is stamped with rarely seen ship straight line marking.

(Courtesy of Herb & Janice Harvis)
| | |
| --- | --- |
| | |